Review: Kevin Murphy's Plumping Wash and Rinse
After the last hair care post – I thought we could do with another so here we are! 😀 Despite having very fine hair, I generally dislike volumising shampoo and conditioners. I find that the majority of volumising products just don't have the moisture my hair requires. I figured that Kevin Murphy's 'plumping line' of haircare, may be a little different as it's meant to nourish fine hair and the scalp, thereby increasing hair density and volume (instead of just providing volume, without the necessary nourishment – which then makes my hair brittle and even more prone to damage).
Kevin Murphy doesn't make cheap hair care products, so this shampoo and conditioner duo was most definitely a splurge! Here is what the products promise to do:
PLUMPING.WASH A thickening shampoo. Ginger Root and Nettle Extracts strengthen and densify fine hair, leaving the hair and scalp revitalised and refreshed. Benefits: Nourishing to hair follicles, thickening, adds softness and shine, stimulates blood circulation in the scalp, exfoliating, growth accelerator, maintains integrity of hair's health, helps to reduce DHT, helps to prevent hair loss, sulphate free, paraben free. Key Ingredients Nettle Extract  High in iron with stimulating properties, this extract reduces DHT. It is rich in Vitamins A and C, and a wide range of minerals including Iodine, Silicon, and Sulfur. It is a powerful source of amino acids that the hair follicles require for proper growth. It's stimulating qualities also help increase the microcirculation to the scalp. Ginger Root Extract  High levels of zinc counteract DHT levels making this extract a growth accelerator and also reducing hair loss. Oleanolic Acid from Lovely Hemsleya root  Fights follicle ageing by fortifying the roots. It's anti-inflammatory properties aid in reversing and preventing the damage caused by DHT. PLUMPING.RINSE A thickening conditioner. Lovely Hemsleya Root rich in Oleanolic Acid, nourishes and restores for thicker, stronger hair. Benefits: Hydrating, protective and strengthening, maintains hair in growth phase, Thickening, elps prevent hair loss and damage from DHT. Key Ingredients Biotin Vitamin B / Biotinoyl Tripeptide –1 Penetrates and strengthens hair while creating a protective shield even in extreme humidity and is considered a protein derivative. It can maintain the hair in the growth phase. Essential for its key role in the manufacturing of healthy hair in areas of the scalp where cells are engaged in the reproductive process, therefore reducing hair loss. Biotin is vitamin B, essential for cellular growth in the body as well as the activity of many enzyme systems. Rice Protein & Rice Amino Acids Replicates the keratin structure of human hair. Conditions and strengthens while providing abrasion resistance. Amino acids are rich in the vital nutrients needed for hair repair. Shea Butter  Delivers moisture to dry or damaged hair from the roots to the very tips, repairing and protecting against weather damage, dryness and brittleness. It also absorbs quickly and completely into the hair and scalp to rehydrate without clogging the cuticle. Oleanolic Acid from Lovely Hemsleya root Fights follicle ageing by fortifying the roots. Possesses antioxidant properties, which have a beneficial effect on the hair, making it stronger and less susceptible to loss. It's anti-inflammatory properties aid in reversing and preventing the damage caused by DHT.
So what is this DHT??? DHT is thought to be the main culprit of hair loss (be it in women or men). DHT is a derivative of testosterone, which teams up with an enzyme (Type II 5-alpha reductase) which binds to a hair's follicle, causing it to shrink which makes it difficult for hair to survive. This all means that our hormone levels can have a direct impact on the health of our hair. As hormones are cyclical in nature and can be affected by our environment, it makes sense that high does of stress or illness, can weaken our hair.
So how did I find the products? The wash (which is a fancy work for shampoo 😛 ) latheres nicely – without being ott. The range has a warming almost spicy scent, perhaps due to the ginger (it also smells a little like cardamon or cinnamon). It's definitely not as strong or over powering like the Shimmer.Shine Spray (which reminds some individuals of fly spray haha but I don't think it's quite that bad…). It doesn't feel like it strips my hair of all moisture, yet it leaves my hair feeling nice and clean!
I was more worried about the rinse (aka conditioner) performing well, as opposed to the shampoo. Like I mentioned above, I don't find volumising ranges to be particularly moisturising. To me surprise – the conditioner moisturises fine brittle hair brilliantly – without weigh it down! Yay! And weirdly enough, I finished my wash and rinse roughly around the same time! This could also be because I would also replace/alternate the rinse with a mask every now and then, but I would use only a touch more conditioner than shampoo each wash. Either way, I thought this was a rare achievement and a testament to how much a little product goes a long way with this range. Usually if a conditioner isn't moisturising enough, I feel like I need to use more product and then I finish it super quickly. The conditioner leaves my hair feeling hydrated but also nourished. My hair is then easy to detangle and style. I do think it plumps up the hair a little, so even if you don't style your hair and let it dry naturally (which can result in very flat pancake like hair for fine haired lasses) it looks healthy and bouncy. I think it even accentuates a slight waves in my hair – this is another testament that the product isn't to heavy.
The ingredients of the Plumping.Wash and Plumping.Rinse:
The wash and rinse are pricey – are your ready? The wash is $42.95 while the rinse is $43.95 (at Adore Beauty). Not cheap – no. If you can get the duo in a pack, then it always works out to be a little cheaper. I do really, really like this duo though, so when my poor wallet allows for it, I will repurchase! I will also add in another note – I tried the Body.Mass scalp treatment spray (also part of the plumping line) a while ago (I just didn't get around to reviewing it and threw out the bottle once I had used it up) and I'm a little on the fence about it. It's almost like a styling product because it gives your hair a lot of volume at the roots. This is great and all, but it made my hair feel dirtier more quickly, because it leaves your roots quite textured. It definitely feels like you have a styling product in your hair when you use it. If you use to much also, it can also leave your hair a little sticky. I'm quite lazy, so I don't want to be washing my hair more frequently, hence I don't think I'd repurchase the Body.Mass treatment any time soon.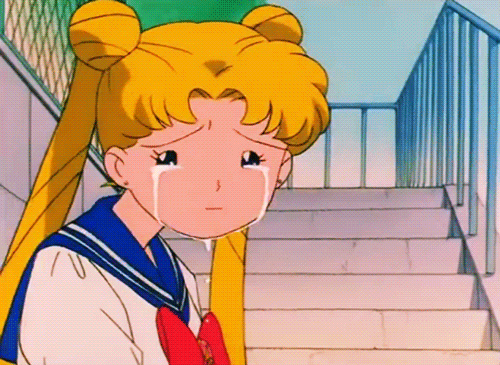 This is my poor wallets reaction haha! But nice hair helps you save the world ye? 
Do you beauties see the difference when using more 'luxe' shampoo and conditioner? Have you tried Kevin Murphy products before? I do like their approach to hair care – they like to call their products 'skin care hair care' haha 😀
Catch ya next time beauties,
Beauty Bee~
Please follow and like us:
#KevinMurphy #KevinMurphyPlumpingRinse #volumizingshampooampconditioner #luxehaircare #KevinMurphyPlumpingWash